I know most of us think making money online is extremely easy. In fact, In the past, many people have earned more than $1000 in a month by making niche blogs and doing affiliate marketing. Many people have shown on their blogs how they have earned money and how you can also earn online via affiliate marketing, guest post and from Google Adsense.
But, nowadays due to increasing no. of bloggers and competition it has become very difficult to achieve the $1000 per month benchmark. In fact, it has become hard to rank your website on first and second pages of major search engines like Yahoo and Google.
If you have a blog with monthly visitors more than 10k, so its very easy to earn more than $100 per month via Google Adsense and affiliate marketing from Amazon, commission junction and major networks like ShareASale. But, what if your site is not ranking in the search engines. What if you are not getting visitors from major search networks like Yahoo and Google. In this scenario, you will not earn a penny from Google as well as from any affiliate segments.
The worst scenario is if you are not able to write on your blogs, I mean you don't have enough knowledge about the topics you want to write a blog or you are not from an English speaking country. When you are from a country where English is not the first language so it becomes difficult to put the words correctly in the articles.
You have few solution for this. You can hire a freelance writer and spend few bucks to get good content for your website. But, again its a long process to make money. As you have to first prepare the data, have to do website SEO and it takes 4 to 5 months to get traffic from Google, Yahoo, and other search engines.
In the past, I have done all these things to earn money online. I succeeded in many things but it took a year to see the results.
After being in the online field from last 10 years I can say its extremely easy to make money online and live a life you want. But, for this, you have to be a little advance and update with current trends to stay ahead.
You can create a blog in the niche which is not very popular now but will get popular in the future or you can create a blog on trending topics and work on them to earn money if you are not in a hurry to make quick money.
If you want to know how to make quick money online so my this post is for you.
How I Make $700 Per Month By Doing 10 Minutes Job in A Day
In this post, I will show you how I make money online by doing a 10 minutes job in a day.
It all started when I sold my niche website on www.flippa.com in the year 2017. My website was a WhatsApp status niche website with average 2 lakh monthly visitors. I used to earn 10k per month from the blog without doing anything since past one year and sold the website on Flippa for $3000 appx.
That time I used to check other website details and their earning on Flippa.com. While checking other websites, I saw few websites with huge revenue per month but no visitor from Google and Yahoo. All the visitors are from major social networking websites like Facebook and Instagram.
I went in deep to see how these sites functions and what is their revenue model? After checking the website data and revenue details I understood they are working on the dropshipping model. After few days of research I also started my own drop shipping website and now I make average $700 per month by doing 10 minutes work in a day.
See in detail – What is Dropshipping and How you can earn money from it?
Dropshipping is basically selling somebody else product on your own website without having a physical product with you in hand. You can simply contact the product owner and negotiate for the best rate to offer your website visitors and earn money.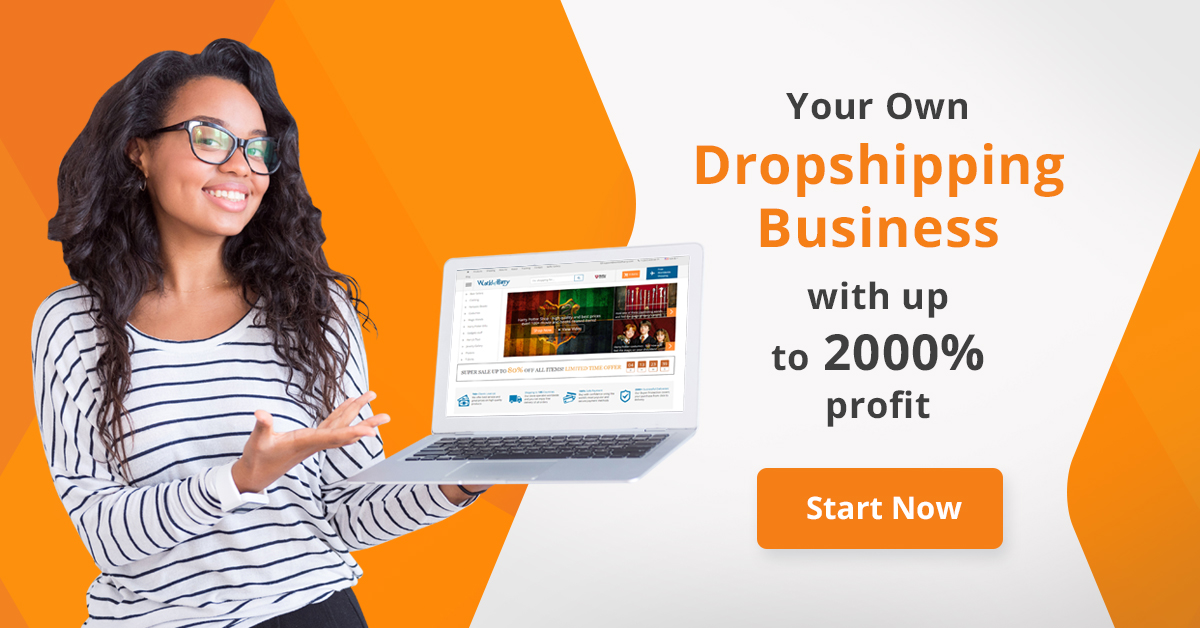 Dropshipping is easy as you don't have to buy products in bulk to sell on your website. You can go to big websites like Amazon and Aliexpress to review the product and choose the best product for your website. In Dropshipping, you don't have the burden of shipping and packaging. All you have to do just market the right product to the right buyer.
If you are not sure what product you should choose to make a Dropshipping website, so you can go and explore Aliexpress to get an idea of different types of product.
How to make a Dropshipping website to earn $500 in a month?
It's very easy to find a niche for dropshipping, you can choose a daily routine stuff like household items, office accessories or you can go vastly like women accessories, man stuffs, shoes, t-shirt, bags etc.
If you want something unique to your website so you can create something related to movies, cartoon characters or a popular brand.
To choose products for Dropshipping website, go to Aliexpress. Why Aliexpress? Because it gives you a wide range of products with reasonable rates than other major e-commerce suppliers.
You have to choose your product and a dropship plugin to connect your website and Aliexpress supplier to make a smooth business.
What is a Dropship Plugin?
A Dropship plugin is basically an API to connect your website to Aliexpress or Amazon. Dropship plugin makes loading of products, inventory management of product, order and dispatch process very easy for us. Using dropship plugin, you can upload more than 100 products directly to your website with proper inventory and description of the products. Also, it saves lots of time which you can use to market the product.
For my website, I use Alidropship Plugin as it is one of the most trusted and easy to use the plugin to connect with Aliexpress. By using this plugin, I have made 4 drop shipping websites and each of my websites is making more than $400 per month on an average.
I use Alidropship to choose the right supplier for my website and to make the product uploads an easy process.
Apart from the plugin, Alidropship also provides service like the creation of Dropshipping website with a reasonable amount.
One of my websites is using Alidropship plugin and their website service completely and this website generates the maximum revenue. The revenue is maximum because Alidropship plugin also gives you an option to buy products with your own Aliexpress affiliate link. In this case, when you place an order for your website buyer on Aliexpress, you can add your affiliate link to earn 5% extra amount.
See the video to understand how Alidropship plugin works –
So don't wait. Follow the below instructions to make more than $500 per month by using Alidropship plugin.
Get a Free Domain with Hosting with BlueHost.
Go to Alidropship by clicking here – www.alidropship.com to get $15 discount on the plugin and website package.
Buy the plugin and the website package too if you want a professional website for your products.
How to get people on your Dropship website?
As I told earlier, SEO takes huge time to get users to your website. To make your website popular and attract users towards your website, Facebook is the best place to target your audience.
Go to Facebook.
Create a fan page for your website.
Create the post about the product with catchy titles and do Boost Post Facebook Ads in the location where you want to sell these products.
Analyse the user behavior on the website and make changes in your ads yo achieve more revenue.
It is a 10 minutes job to check the orders every day and to make them complete using Alidropship.
I am not sharing my website link as the products I am using on my websites are having less competition and I don't want to increase competition for myself. I hope you guys understand.
But, you can see the reviews of other people who are earning quite well from Alidropship and shared their journey.
Rahul's Journey From 0 To $12000 in 5 Months with One Dropshipping Website.
How Kate Runs A Dropshipping Store That Generates $32000/Month.
How I Sold My Dropshipping Store on Flippa For $15000
For any query regarding Dropshipping, You can comment on the comment section or contact us via our contact form.